Mounted on truck mobile workshop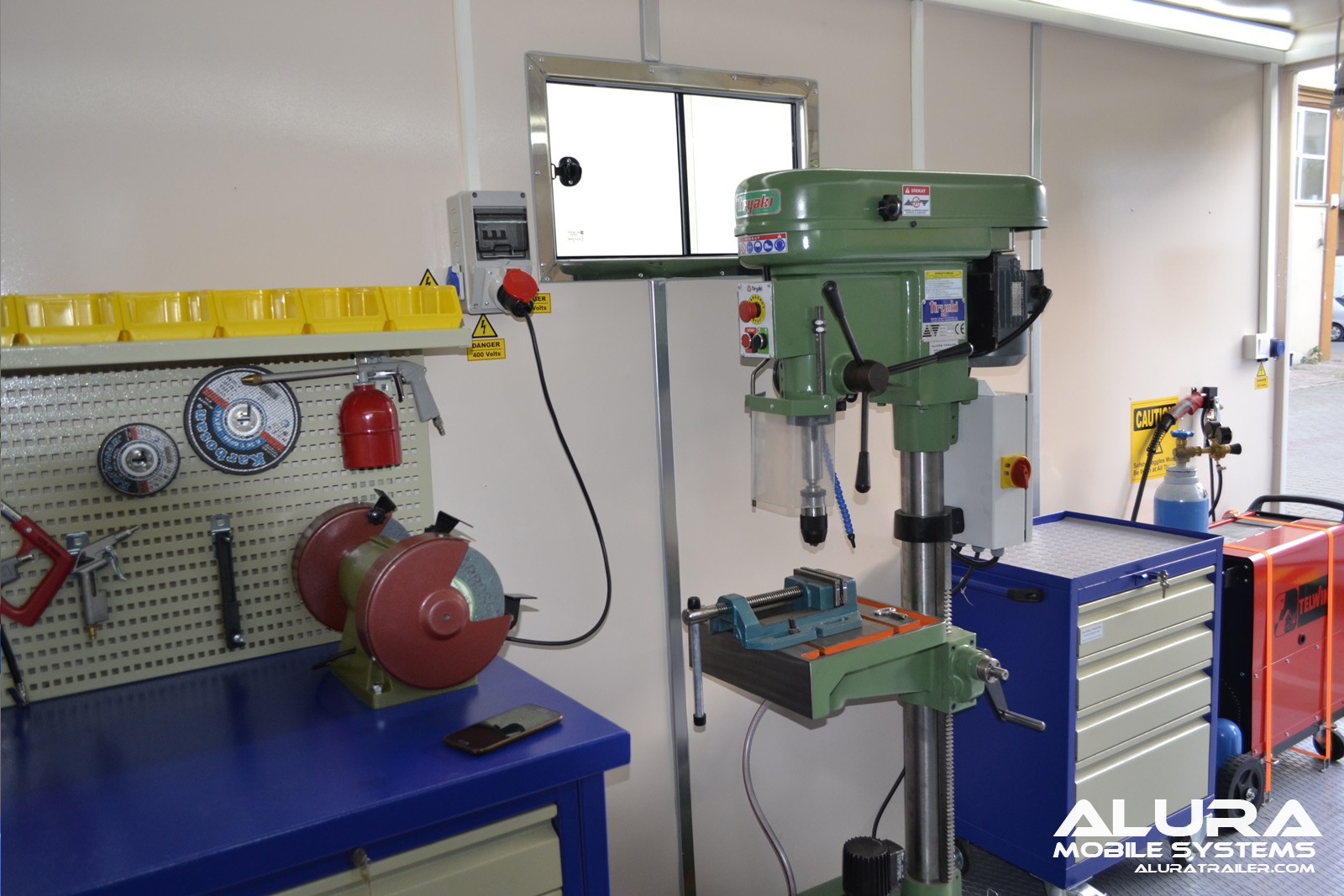 Introduction :
The mounted on truck mobile work shop is required for petroleum pipe lines maintenance applications ,that means the workshop box walls should be combined strength and aesthetics in a high quality truck body box to meet our applications , the construction of the workshop box should provides very strong construction, resulting in a good durability and an enhanced resistance against outer pressure .
1 – Truck Briefly Specifications .
The mobile workshop should be mounted on (4X4)drive , (Mercedes , Iveco or Renault) truck equipped with diesel engine with ()kw . -
The truck should be provided with all necessary accessories & options (air condition – radio – CD) & all alarming lights and signs .
Left side hydraulic steering wheel .-
Electric power windows .-
ABS –ASR ) break system .-
-The truck should be provided with heavy duty suspension .
-The rear axle load shouldn't be less than ()ton .
- The truck shall be provided with fuel tank of (600 l) and auxiliary fuel tank (300 L To 500 L ) & (200 L) water tank .
On /off road Michelin tires (with one spare tire) .-
Color : white or grey .-
Electronic fuel injection system .
2 – Mobile Work Shop Technical Specifications .
Mobile work shop box specifications .-
- the box should be made of (2) blankets ,the outer material shall be white aluminum and the inner material shall be wood .( any updated technology for raw made material will be discussed and may be accepted .
- work shop box dimensions :
the required dimensions for the box are :( L = 5.30 , h=2.25 , w=2.5 ) m (all given dimensions are in minimum ,if longer than will be accepted .
- side & front walls thickness shall not be less than (50)mm .
- the box shall be provided with a small (4) glass windows with side pull open method at the upper of sides wall as (2) windows for each side wall .
- the rear side of the box should be the main door for the workshop .
- the box should be provided with a side door at one of sides walls front corners (left or right) ,this door will be opened during the operation of the electric generator to decrease the noise .
- the workshop box should be provided with a proper (open &closed ) light ladder to come up & down .
- the workshop box should be provided with enough florescent lamps .
- (4) internal sockets & (2) external sockets should be included (power out let) .
- slip resistant metal or rubber floor should be included .
- (2) overhead flood lights installed at the main door where we could use them while the door is opening .
- first aid & (2) fire extinguisher .
- working table fitted with several drawers and perforated hanged metal sheet to allow hanging tools .
- the working table shall be fitted with medium size vice .
- some shelves to be used for storing spare parts .
- the box should be provided with main electrical control box contains electrical switches for each equipment and lights .